insiderviz came out on top at the Best of Student Startups (BOSS) Finale on Thursday, Nov. 17 in the WOSU Studios space.
As the winning team, insiderviz is awarded $2000 to support the business venture and an automatic invitation to be one of eleven ventures to pitch at the spring 2023 President's Buckeye Accelerator Pitch Finale, including completing the pre-accelerator Boost Camp.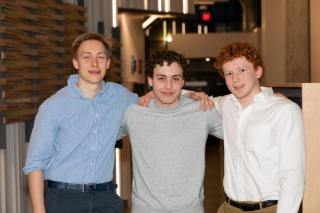 Prior to the finale, 42 teams participated in BOSS programming and coaching to help get startup ideas off the ground through a series of interactive workshops, including problem identification, customer validation, market research and more. The finale featured the top six individuals and teams pitching their ideas to a panel of expert entrepreneurial judges. Finalists had seven minutes to pitch their business ideas and were judged on: problem/solution; market validation; feasibility; team dynamics; responses to questions; and, ultimately, whether or not the judge would fund the proposed venture.
"The BOSS program is a vital part of our continuum of programs to advance an entrepreneurial mindset in Ohio State students from all majors and all of our campuses," said Cheryl Turnbull, senior director of the Keenan Center for Entrepreneurship. "When we can give our students access to mentoring and knowledge resources, we're empowering them to elevate and refine the ideas, passions and solutions already inside of them."
 BOSS Finale teams include:
insiderviz (1st place) – a free, easy and visual solution to insider trading data. Team members include: Ben Davis, Ryder Kemper and Ben Ware (College of Engineering).
SmileChild ($1500 runner up) – a novel incentive-based educational mobile app with the goal of reducing disparities in infant mortality rates by bringing both accessible and quality educational resources to a caregiver's fingertips. Team members include: Delaney Kesterson, Nikita Nair, Madyson Webb and Bilan Yakoub (Arts and Sciences); Logan Webster (Education and Human Ecology); Pranav Chati and David King (Engineering); Kiah Kapoor, Devi Nelakurti and Anand Shah (Medicine); Ava Barone (Pharmacy); and Ilona Ovestrud (Public Health).
MyoGlove – ($500 people's choice award) - a modular therapeutic device tailored for healthcare professionals through advanced ergonomics. Team members include: Lucas Tai and Leo Yu (Business); Maariyah Ahmed, Liam Burns, Corey Chiou, Erin Cowen, Cecilia Groves, Max Makar, Keyan Matar and Louie Melargno (Engineering); and Shanvanth Arnipalli (Food, Agricultural and Environmental Sciences).
ClassGuard – which aims to utilize modern computer vision and artificial intelligence technology to put an end to the epidemic of mass shootings in the United States. Team members include: Mel Gunawardena, Karthick Sivasubramanian and John Wu (Engineering).

BOSS 2022 judges

De-Distracted Driving – a venture that is addressing the perils of distracted driving using artificial intelligence paired with the numerous sensors found in modern smartphones. Team members include: Kiran Wijesooriya (Arts and Sciences); Khalan Le (Business); and David Novikov (Engineering). De-Distracted Driving won the Hack OH/IO competition. A collaboration with Hack OH/IO and the Keenan Center earned them the spot to pitch in the BOSS Finale.
Mycolite Solutions – a venture that believes unnatural problems need natural solutions. Using a plastic-eating fungus, they aim to eliminate waste from recycling. Team members include: John Chapman (Arts and Sciences); Parker Haskett, Zayne Jaber and Sanyam Shekhawat (Business); and Sidney McLean (Engineering).
The evening's judges were: Dionnica Gaston, director of talent at Rev1 Ventures; Lori Kendall, professor in Fisher College of Business; Kai McKinney, founding partner at Relay; and Jack Murray and Adithya Ramaswami, co-founders of President's Buckeye Accelerator venture Parawave.
View the full BOSS Finale