Are you looking for a way to make your business idea, product, or service a reality?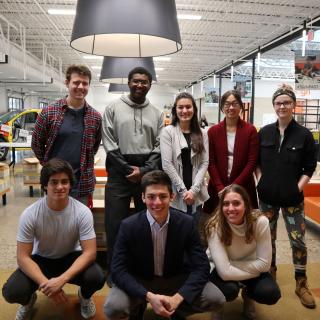 Program
Through a series of interactive workshops, students are provided valuable information and coaching to help get startup ideas off the ground. At the end of the program, five teams are selected to pitch idea at the BOSS (Best of Student Startup) Finale. 
The winning team is awarded funding to support the business venture and automatic invitation to be one of eleven ventures invited to pitch at President's Buckeye Accelerator Pitch Finale in spring 2023*. The other 10 student ventures will earn a spot through the pre-accelerator, Boost Camp. Six student ventures will be chosen for the year-long President's Buckeye Accelerator and advance their startup for launch with a $50,000 award.   
Autumn 2022 Program Timeline
|   | Activities | Date | Time |
| --- | --- | --- | --- |
| BOSS Application | Opens | Aug. 8 | 5:00 p.m. |
| BOSS Application | Closes | Sept. 23 | 11:59 p.m. |
| BOSS Orientation | Program kickoff (students receive notification after accepted application)      | Sept. 21 | 6"30-8:30 p.m. |
| BOSS Workshop: 1 | Problem Identification, the pitch, and the why? | Sept. 27 | Noon - 1:30 p.m. |
| BOSS Workshop: 2 | Customer validation, market research | Oct. 11 | Noon - 1:30 p.m. |
| BOSS Pitches: Examples       | Review past successful BOSS pitches | Week of Oct. 17    | TBD |
| BOSS Workshop: 3 | Storytelling, business model | Oct. 25 | Noon - 1:30 p.m. |
| BOSS Pitches: Round 1 | Students pitches (sign ups begin in October) | Nov. 3 - 9 | Various |
| BOSS Finale | Selected students pitches  | Nov. 17 | 5:30 - 7:30 p.m. |
Frequently Asked Questions