Meet Bennett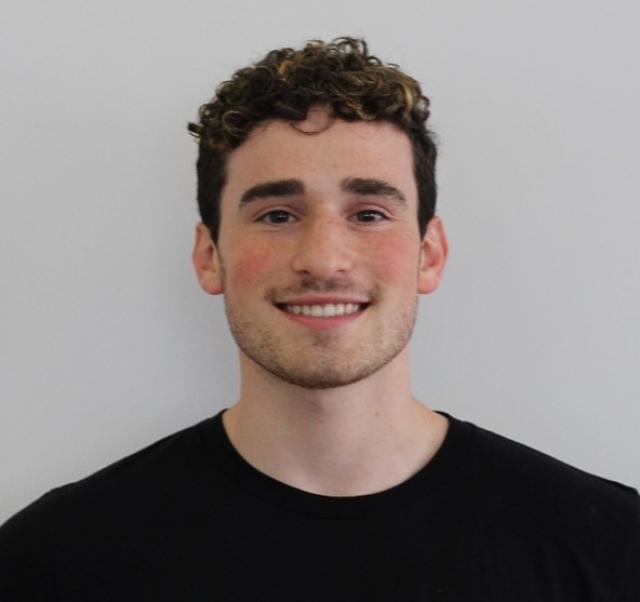 Bennett Heyn is a senior majoring in information systems management from Cincinnati, Ohio. Bennet won LaunchpadOSU 2021 with the venture idea, AisleSpot, and is now developing it into a startup.
As a freshman in 2019, Bennett gave LaunchpadOSU a try since he had enjoyed events that involved pitching in high school. One of his favorite memories that year was working with his team on an idea called "Flush," a design to make restroom flushing systems more hygienic. The team finished their presentation early and took the extra time to go into Ohio State restrooms and try to make the idea work. "It was fun to try things out while working with other creative people. Listening to other groups' ideas and free meals were also highlights," shared Bennett.
LaunchpadOSU provides students an opportunity to test out ideas. He says, "LaunchpadOSU acts like a stepping stone for getting started and allows people to get feedback from the community."
Bennett's winning idea from Launchpad 2021, AisleSpot, shows grocery shoppers the most effective shopping route based on the items they want to buy. The inspiration for AisleSpot came when Bennett's mom gave him a list of items to get from the grocery store but finding everything was difficult. The items on the list were out of order from the store's setup, and he found himself missing items, asking for help, and spending a great deal of time searching.
Since coming up with this idea, Bennett has registered AisleSpot as an LLC, developed a minimally viable product for the website with a LaunchpadOSU team member, and is working with a classmate to on the app's UX design. He uses the company's TikTok (@AisleSpot), Instagram (@aislespot), and LinkedIn (@AisleSpot) to spread the word and acquire signups. Aislespot was selected as one of 15 finalists of over 400 applicants for Princeton University's Tiger Launch pitching competition in February.
Bennett's advice to new entrepreneurs, "Keep at it for a while since people can learn a lot from their own experiences, reinvest earned money back into the business, avoid pivoting too much, gain users outside of the entrepreneur's own demographic, and join Ohio State's Business Builders Club."
Meet Shreyas
Shreyas Rajkumar is a senior majoring in finance and real estate with a minor in leadership from Dublin, Ohio. Shreyas participated on the winning team, Third Wheel, at LaunchpadOSU 2020.
Shreyas originally registered for LaunchpadOSU to fulfill the capstone requirement for the E&I Scholars Program, but by the end of the event came to enjoy his team and venture idea. Shreyas recommends, "Anyone who's a STEM major that has interest in starting a business would find it helpful. If you're in computer science or mechanical engineering, you might not know all the useful business buzzwords. LaunchpadOSU's great because it provides a foundation for how it feels to build a startup and get started on a small scale." 
On the final day of LaunchpadOSU, students pitch ideas to judges and Shreyas highlights, "There is a real-world application to pitching. We often pitch ideas in classes, internships, and will in future workplaces. LaunchpadOSU provides a great opportunity to practice."
Students also can meet with experienced entrepreneurs who act as mentors. "The Third Wheel team had originally planned on making a profit solely through ad revenue on the app. However, a mentor provided the insight that investors often look for creative streams of revenue when they're considering a company, and the team began brainstorming alternative ideas," said Shreyas. 
The Third Wheel venture idea is designed to take the stress out of date planning. Couples are able to take a quiz about the type of dates they prefer, and the algorithm will set up a plan for both to enjoy.
Shreyas and Sheli Gilman, an Ohio State alumni, have taken the lead in following through with this idea in its development. The idea won second prize at the Business Builders Club 2021 Idea Pitch Competition and participating in Boost Camp (a pre-accelerator for the President's Buckeye Accelerator at Ohio State).
Regardless of the outcome, Shreyas is grateful to be part of the startup venture. "We'll see where it goes after college. Even if our team can't keep it up, we'll hand it to someone else. If progress is going super well next year, I may focus on Third Wheel full-time, but I'm just really glad I had the experience of building that," said Shreyas.
Shreyas comments that no matter what happens, he wants to work at a startup at some point.  Shreyas noted, "Through LaunchpadOSU, the Best Of Student Startup (BOSS) competition, and other experiences with Third Wheel, I've learned startup cultures can be rewarding."
Learn more about this student venture on Instagram @3rdwheelco and LinkedIn @3rdwheelco.